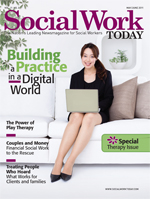 I LOVE technology — Facebook, Twitter, Websites, YouTube, e-newsletters, google and not just personally, but I have also used technology and social media to help build my therapy practice Wasatch Family Therapy.
Well, my love of technology and my therapy practice, Wasatch Family Therapy was featured in May/June 2011 Social Work Today Magazine's cover story "Building A Practice In A Digital World" ! Not just mentioned, but the article starts out with…


Julie Hanks, LCSW, has a self-professed love of technology—and it shows.

Hanks is owner and clinical director of Wasatch Family Therapy in Cottonwood Heights, UT. The practice has its own website, Facebook page, Twitter account, and YouTube channel. Hanks and her staff send an e-newsletter each month, use Google's calendar function for client scheduling, and send bills through e-mail.
More